Scott Kettner - Drummer, Percussionist, Educator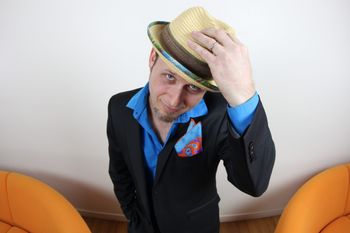 When Scott Kettner looks at a map, he sees a direct line that connects the rivers of northeastern Brazil to the parishes of New Orleans and the streets of Brooklyn. A master percussionist, bandleader, producer and songwriter, Kettner is the guiding force behind Nation Beat, a band whose teeming, vibrant rhythms find common ground in the primal maracatu rhythm of Brazil's northeastern region, the Big Easy's funky, hypnotic second-line and strolling Mardi Gras Indians, and the unfettered freedom of big-city downtown jazz.

For Kettner, the discovery of maracatu was a life-changing experience. The great jazz drummer Billy Hart, who served as Kettner's instructor at New York's New School University, first informed him of the mysterious music. "He was turning me on to African music from different regions," says Kettner, "and we started getting into Afro-Cuban rhythms and Brazilian rhythms. After a couple of years studying samba and bossa nova, I asked him, 'Are there any other rhythms from Brazil that I should be learning?' He said, 'Yeah, man, there's this music called maracatu!' I pointed to his drumset and said, 'Show it to me,' and he said, 'I don't know how to play it! I just know it's a badass rhythm and you have to go learn it, then come back and teach it to me.'"

Intrigued, Kettner began asking Brazilian musicians based in New York how he could learn about maracatu. Even most of them knew nothing of it. The only thing to do, Kettner reasoned, was to go to Brazil and find maracatu. Upon graduating in 2000, he spent a year living in the country, based primarily in the northeastern city of Recife, living in a favela, studying maracatu and other, even more obscure Brazilian rhythms with his new mentor, Jorge Martins.  Upon his return to the USA, Kettner implemented maracatu in NYC and began performing and conducting workshops throughout the country. 

As a side-man, Scott Kettner has performed and/or recorded  with Willie Nelson, Cyro Baptista, Stanton Moore and Galactic, Frank London, The Klezmatics, Cascabulho, Vieux Farka Toure, Maracatu Nação Estrela Brilhante and many more.

His new book entitled "Maracatu for Drumset and Percussion" is now available by Hal Leonard Publishing.  This is the first in-depth percussion book about the rich culture and music of Maracatu de Baque Virado from Brazil, with photos, history, recordings and an instructional CD-Rom.

Scott is also a recent recipient of a prestigious NEA (National Endowment for The Arts) award for his project entitled "A Tale of Two Nations" which brought together his group Nation Beat and the traditional maracatu group from Recife, Brazil Estrela Brilhante.  The grant helped fund a tour that had it's world debut at Lincoln Center Out of Doors in the summer of 2013.  This tour was historic in that it was the first time that a traditional maracatu group from Brazil had ever performed in the United States.
Visit Scott's musical projects: