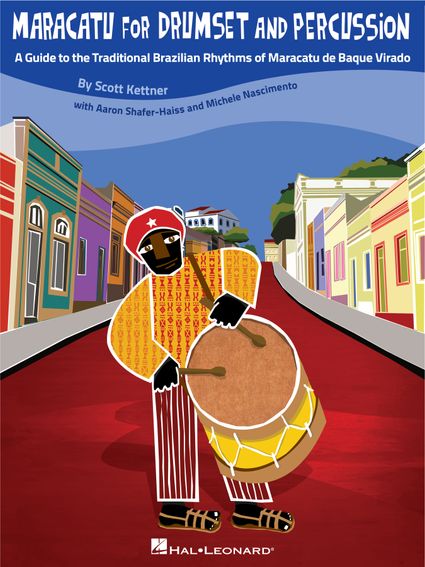 The first in-depth English-language instructional book on the 400 year old traditions of Maracatu de Baque Virado. Maracatu for Drumset and Percussion explores the traditional Brazilian rhythms of Maracatu de Baque Virado, which are deeply rooted in the Candomblé religion but have expanded to provide the rhythmic framework for a particularly exciting style of music. Author Scott Kettner explores every aspect of this dynamic genre, including: instruments of Maracatu de Baque Virado, changing traditions of maracatu, traditional and contemporary maracatu manifestations, drumset applications, New Orleans mambo, and more.
In addition to the musical portion, the book features a thorough exploration of the history, culture, and significance of Maracatu de Baque Virado.
The book explores the rhythms and styles from some of the most important traditional maracatu groups in Brazil. and comes with a CD of listening examples and 98 play-along tracks is included.
"For the first time, Scott traces the connection between Brazilian Maracatu and the Second-Line drumming of New Orleans." -Billy Hart (legendary jazz drummer and educator)
"By checking out this material, I've been able to expand my knowledge of Brazilian music and come up with tons of new ideas that I can use in my own playing situations." -Stanton Moore (funk drummer, clinician and educator)
"Bravo to Scott for shedding so much light on such important and wonderful music!" -Michael Spiro (percussionist, recording artist, educator; Professor of Music at Indiana University)
"The introductory section covering the history and evolution of this music was a most interesting and enlightening read." -Ed Uribe (drummer, percussionist, producer, author, educator)